~ Mandolins ~
---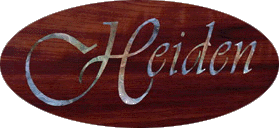 Stringed Instruments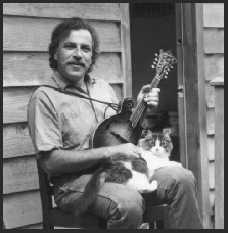 Welcome to Heiden Stringed Instruments. Here you will find a collection of photographs of luthier Michael Heiden's custom mandolins.
These instruments being made today are the result of 25 years experience and are guaranteed to satisfy the most discerning player.

---

mandolins are the result of a
genuine interest in making the most responsive 'player friendly' instrument
available. Customers frequently state their preferences for a deep yet
bright and clear sound and an effortless 'woof'.

By using premium tone wood and carving to the optimum weight and stiffness,
and by paying particular attention to the graduation of the top and back
plates and the tone bars, you can achieve wonderful results in a new
instrument.
There is no shortcut to having the warmth, tone and power of a 60 year
old mandolin, yet you need not wait to have an instrument that is
enjoyable and full sounding right away.

Eastern maple is used for the sides and neck. The hard sides provide a rigid rim which the top 'floats on, delivering more volume and sustain. The neck is reinforced with a carbon-fibre bar, providing stiffness while still transmitting vibrations. This is one of many important factors in an instrument's ability to to be clear and powerful.
Guaranteed to satisfy the most discerning player.


---
Here are some photos of mandolin backs showing the great variety of maple.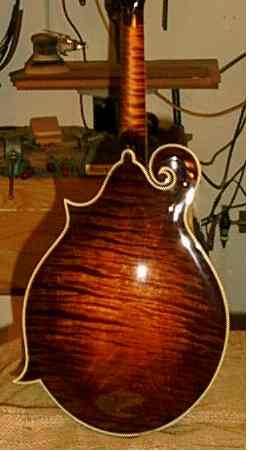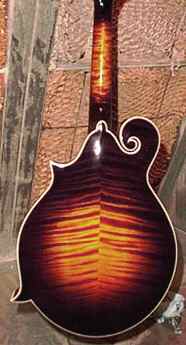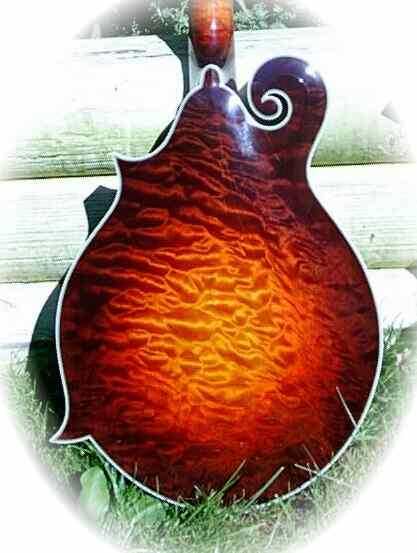 ---
Here's mine...... "F-32"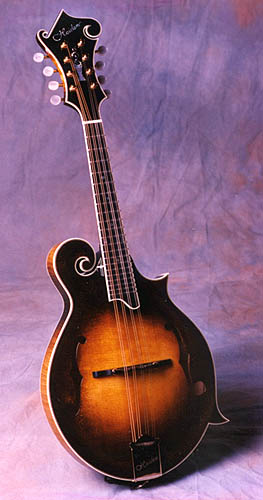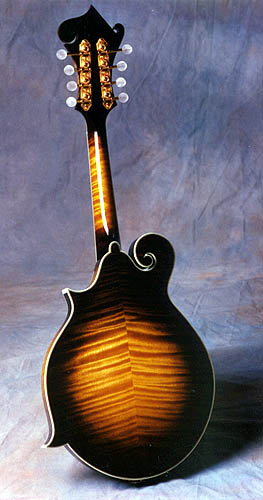 ---
"Standard"
Clean and simple in design and ornamentation
with a big sound and comfortable custom neck.
This model features seasoned figured Big leaf Maple back,
hard Eastern maple neck & sides. Choice of Engleman or Sitka spruce top.
Single ivoroid bound body and unbound headstock with Ebony faceplate.
Schaller tuners & Varnish finish.
"Deluxe"
The same brilliant tone and player friendly feel with elegant single
ivoroid binding on headstock and fingerboard, top and back.
Features Torch (a.k.a. Flowerpot) pattern inlay.
Nicely figured maple neck, back, & sides.
"Artist"
The classic look of the 1920ís with choice of Fern pattern or
Torch abalone peghead inlay (F-model) and additional black and white
decorative bindings on the headstock, fingerboard, top and back.
Gorgeous highly figured Red maple neck, back, and sides.
Red spruce top and varnish finish.
Calton case included with instrument

Options
∑ Gold-plated hardware
∑ Calton case
∑ Pickguard
∑ Monteleone style tailpiece
---
~ Mandolins & More~
Walton, KY 41094

Please call or email for an appointment.
So you can experience the instruments
and receive personal attention without interruption.
In other words...
You'll essentially have the shop all to yourself.
Jeff Cowherd
Phone #s:
(859) 801-9581
(859) 356-0201
Copyright 1999-2009 by Jeff Cowherd. All Rights Reserved